Dean's Profile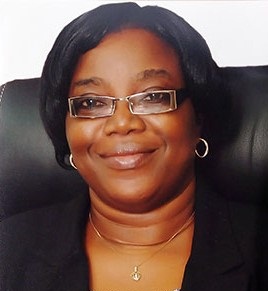 ​Oluwatoyin Odeku is a Professor of Pharmaceutics and Pharmaceutical Technology and the Dean of the Faculty of Pharmacy, University of Ibadan, Nigeria.
She graduated with a Bachelor of Pharmacy from Obafemi Awolowo University, Ile-Ife, Nigeria in 1988 and obtained her M.Sc. and PhD degrees from the University of Ibadan, Nigeria in 1992 and 1998, respectively. She joined the service of the University of Ibadan as Assistant lecturer in 1993 and rose to the rank of Professor in 2008. She holds a certificate in Modern Higher Education Management and Leadership from the University of Applied Sciences, Osnabruek, Germany.
Professor Odeku has held several administrative positions including Sub-Dean Undergraduate (2003-2005), Acting Head of Department (2005-2006), Head of Department (2010-2014), member of Senate (2005-2006 and 2010 till date), Senate Truth Committee and Senate Curriculum Committee, Focal Officer, University of Ibadan SERVICOM Unit. She has also served in several committees within the Faculty and the University. She has served as the Director of the Office of International Programmes and is currently the Dean of the Faculty of Pharmacy.
Professor Oluwatoyin Odeku had her postdoctoral training at the Hebrew University of Jerusalem School of Pharmacy, Jerusalem, Israel (2001-2002). She has also been a Visiting Scientist to the University of Manchester School of Pharmacy, Manchester, UK; Shanghai Institute of Materia Medica, Shanghai. China; Martin-Luther University, Halle, Germany and University of Wuerzburg, Germany. She has been a visiting Professor to JSS University, Mysore, India. Kwame Nkrumah University of Science and Technology, Ghana, Chitkara University, India; University of Bonn, Germany and University of Potsdam, Germany.
Professor Odeku has been a recipient of many awards including UNESCO/Israel Co-Sponsored Post-Doctoral Fellowship, MacArthur Foundation Grant, CAS-TWAS Visiting Scholar Fellowship, TWAS Research Grants, DAAD visiting Fellowship, Alexander von Humboldt Foundation Fellowships, CV Raman Senior Fellowship, Research Group linkage grant of the Alexander von Humboldt Foundation, and AAU Staff Exchange Award.
She has successfully supervised eight PhD graduates and several Masters Students in Pharmaceutics. She received an NUC award for supervising the best PhD Thesis in Pharmacy in 2008 for her first PhD student. She has over one hundred publications to her credit.
She is a registered Pharmacist with the Pharmacists Council of Nigeria (PCN) and a member of the Pharmaceutical Society of Nigeria (PSN), the Organization for Women in Science for the Developing World (OWSD), the Nigerian Association of Pharmacists in Academia (NAPA) and the Association of Lady Pharmacists (ALPs). She is a Fellow of the West African Postgraduate College of Pharmacists (WAPCP) and the West African Research Association (WARA).